On Sinulog day, January 19, President Rodrigo Roa Duterte led the unveiling of a commemorative marker at the Mactan-Cebu International Airport (MCIA) Terminal 1, which signified the completion of its full renovations. The ceremony was held at the new Airport Village in the Terminal 1 Arrivals area.
Present at the unveiling of the marker were Senator Bong Go, Presidential Assistant for the Visayas Michael Lloyd Dino, Civil Aviation Authority of the Philippines Deputy Director General Donaldo Mendoza, Department of Tourism 7 Director Shalimar Tamano, Lapu-Lapu City Mayor Junard Chan, Mactan-Cebu International Airport Authority (MCIAA) General Manager and CEO Steve Dicdican, Megawide Chairman Edgar Saavedra, GMR MEGAWIDE Cebu Airport Corporation (GMCAC) President Louie Ferrer, and GMCAC Chief Executive Advisor Andrew Acquaah-Harrison.
The Php 1.8 billion renovation started immediately after the opening of the new MCIA international terminal (Terminal 2) in July 2018 and was completed in August 2019. Prior to this, GMCAC had implemented several initial improvements to Terminal 1 to address urgent issues such as congestion and operational efficiency. Terminal 1 was originally built for just 4.5 million passengers per annum (mppa); however, it was already handling 6.9 mppa in 2014. GMCAC took over landside operations of MCIA on November 1, 2014.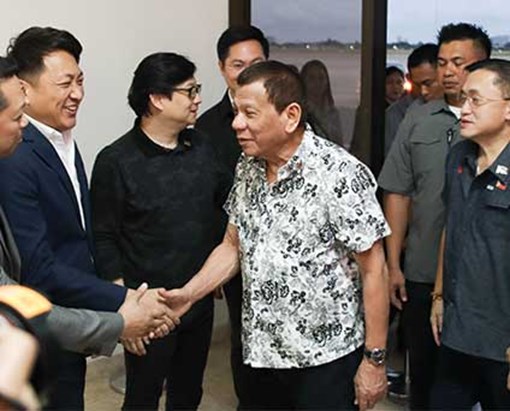 "With the complete renovation of Terminal 1, we can now focus on opening more domestic flights via Cebu," said Louie Ferrer, GMCAC President. "MCIA's domestic flight frequencies have increased by 82%, and this is just in our first five years. Our medium-term objective is to establish Cebu as the hub for flights to the Philippines, particularly to Visayas and Mindanao, by maximizing our strategic central location and infrastructure," he said.
Ferrer attributed MCIA's growth these past few years to the efforts of the airport's stakeholders. "Since November 2014, we have served more than 50 million passengers and doubled the annual passenger traffic. MCIA has seen significant improvements within this period, and it is thanks to the hard work and collaboration of the MCIA and Cebuano communities that we now have an airport that we are proud to call our own," he said.
MCIAA General Manager Steve Dicdican also highlighted the strong partnership between the public and the private sector. "The success and milestones that MCIA have achieved in the past years are a testimony of a successful collaboration between the government and the private sector in delivering a world-class service and a passenger-centric airport," said Dicdican. "Another milestone that we are looking forward to is the completion of MCIA's parallel taxiway/second runway which will sustainably address the growing needs of the airport," he added.
Terminal 1 Improvements
With this renovation, the domestic terminal can now handle 11.7 mppa with an increased floor area from approximately 38,000 sq. m to about 45,000 sq. m.
Pre-departure
Terminal 1 now features an expanded pre-departure area that can accommodate more vehicle drop-offs. The pre-departure area is open to natural light and features wooden details as befitting MCIA's resort-airport positioning. Flight information displays are already installed throughout the area.
Airport Village
The pre-departure area is now connected to the new Airport Village, built on what used to be the old arrivals road. The Airport Village is a commercial area for passengers and their well-wishers to enjoy F&B and retail selections while waiting for flights. The Airport Village houses the relocated Duty Free with an expanded store area and a mix of international and homegrown Cebuano restaurants like Casa Verde and Café Laguna, among others.
Automatic Tray Retrieval System (ATRS)
Among the new technologies increasing efficiency in Terminal 1 are four Automatic Tray Retrieval System (ATRS) machines located at the final security check area. MCIA is the first airport in the Philippines to introduce the ATRS with the opening of Terminal 2. Trays are automatically fed into the machines which scan hand-carried luggage, any any flagged items are automatically sorted onto new a lane for inspection.
Renovated Boarding Gates, Food Avenue, and Plaza Premium Lounge
Boarding gates 9, 10, 11, and 26 are newly renovated and feature a more spacious area and more seating for passengers. These new boarding gates are near the new Food Avenue, a food hall where passengers can relax and enjoy local and international F&B selections. The comfort rooms and baby care room have also been redesigned with passenger comfort and convenience in mind. Finally, the Plaza Premium Lounge, which is also in Terminal 1, offers 24-hour lounge services to passengers.
Transportation Hub
Finally, the new Transportation Hub adjacent to the Arrivals exit creates a centralized vehicle pick-up area for arriving passengers. It houses all modes of public transportation available at MCIA, including the MyBus, yellow and white taxis, and cars for hire.