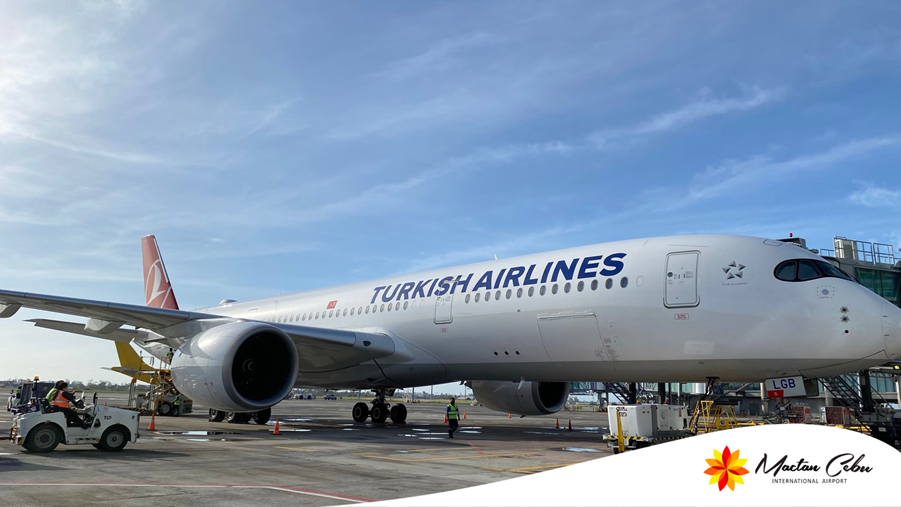 The IST-MNL-CEB reciprocal flight will connect Cebu to over 320 destinations across the globe
GMR MEGAWIDE Cebu Airport Corporation (GMCAC), together with the Mactan-Cebu International Airport Authority (MCIAA), today welcomed the arrival of Turkish Airlines' first reciprocal flight to Cebu.
As part of its global expansion plans, Turkish Airlines introduced its thrice weekly Istanbul-Manila-Cebu flights, connecting Cebu to more than 320 destinations in over 120 countries around the world.
"It has been a long time since we welcomed a new long haul flight to Cebu because of the pandemic, and now we are starting the year with Turkish Airlines, which is MCIA's first direct connection to Europe and strengthens our Middle Eastern connection even more. With this flight, we can help open more opportunities for the region, and enable it to accelerate recovery plans from Typhoon Odette and COVID-19," GMCAC President Louie Ferrer said.
"This has been long in the making and we wish to extend our thanks to Turkish Airlines for believing in the Cebu connection, MCIAA, and our Commercial team at the airport for making this happen," he continued.
Turkish Airlines utilizes an Airbus A350-900 for the thrice weekly service. Its maiden flight arrived at MCIA at 6:52 a.m. today.
As another long haul airline launched in Cebu connecting to the world and amidst the challenge of the pandemic, this is evidence to the confidence that the travel and tourism market has for the tourism, especially the gateway of Cebu.
"Despite the recent turn of events in Cebu, the launch of Turkish Airlines brings us hope as we look forward to the future and fast track our recovery efforts. We know that the addition of the Istanbul route will open opportunities not just for Cebu, but for the entire country as well," MCIAA General Manager and CEO Julius G. Neri, Jr. said.